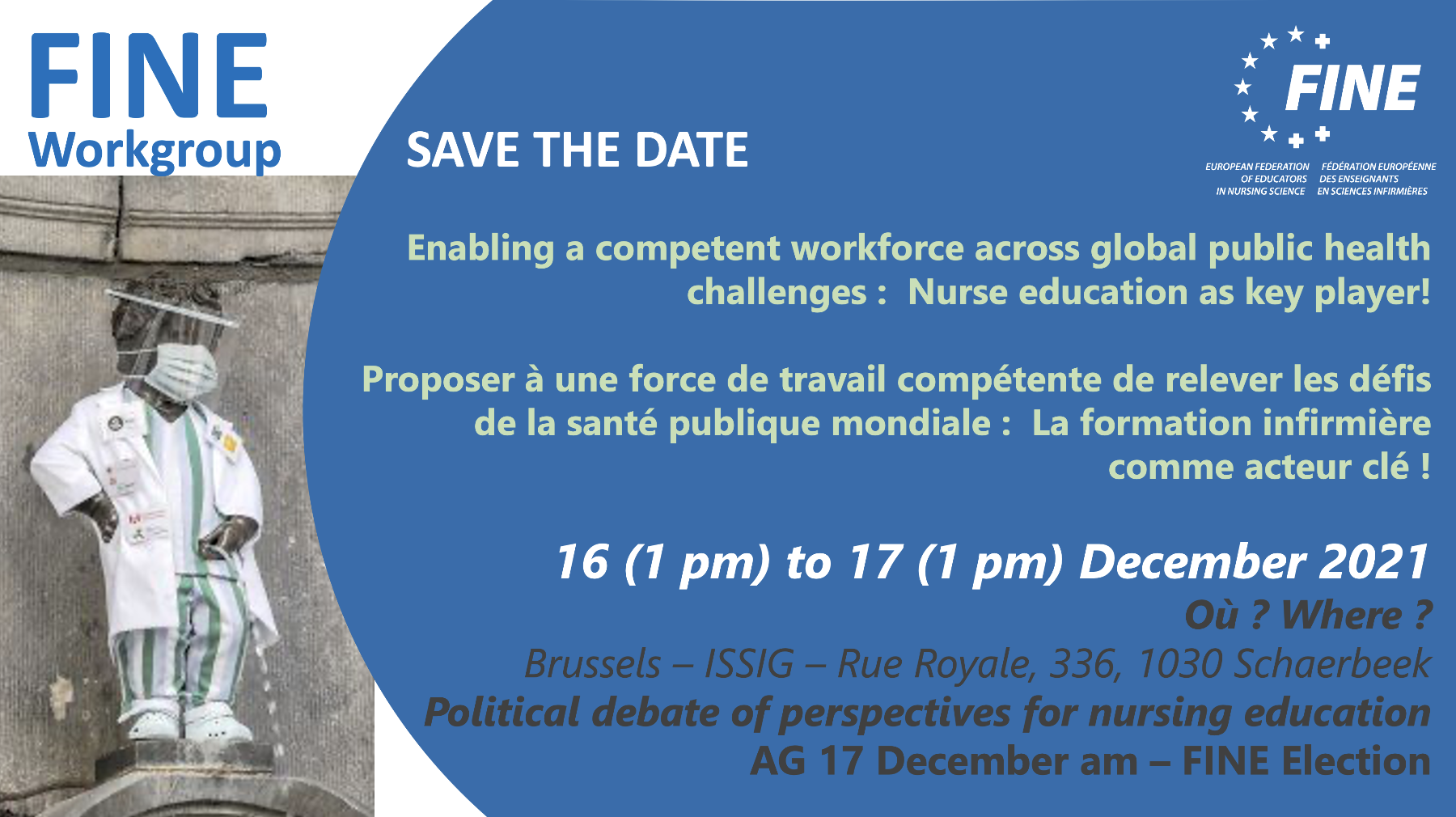 FREE Workgroup – 16th of  december 2021, 13:30 – 17:00 (CET)
Enabling a competent workforce across global public health challenges: Nurse education as key player!
Free workgroup on TEAMS platform :
The link TEAMS will be made available a few days before the workgroup.
Another link to the realtime translation with subtitles will alos be shared.
You have to register to receive a presence attestation.
Point of attention : The registration information with the teams meeting link may arrive in spam, please check this folder.
Moderators :

 
Maria Cassar: FINE Vice-president, Head Department of Nursing, Coordinator, Master's program in Nursing, Faculty of Health Sciences, University of Malta
Cécile Dury: FINE Présidente – Directrice du domaine de la santé, Haute-Ecole de Namur-Liège-Luxembourg, Belgique
Background :
The world has just experienced an acute health crisis. Health professionals have been working to provide health care to populations. Nurses have played a key role at all levels. This crisis has highlighted the importance of a responsible, agile and supportive health system to meet health needs. The crisis has also highlighted the difficulties of health care providers and systems to respond effectively. Nursing education is a key player in this context. Do current levels of education still meet the challenges? Several countries are considering the implementation of a new title of care assistant. How can the specialist nurses education be developed? What are the prospects for advanced practice nurses? How can we develop our current nursing education?
Aim :
To reflect on the evolution of nursing education in order to provide a competent workforce to meet the challenges of public health.
Stakeholders :
Educators, managers and students of institutions offering initial nursing education
Health professionals
Agenda :
13:30 – Opening : 
Cécile Dury, FINE President, Director of Health sector, Henallux, Belgium
14:00 – Keynote : "Relationship of nurse staffing, nurse qualification, work environment and quality of care: current available evidence".
He is professor of healthcare management, Leuven Institute for Healthcare Policy, University of Leuven KU Leuven, Belgium. He holds a PhD in Public Health, a MSc in Biostatistics, a MSc in Healthcare Management and a BA in Nursing. He is Program Director of the Master in Health Care Policy & Management and Head of KU Leuven WHO Collaboration Centre on Human Resources in Health Research & Policy.
He is Senior Fellow to the Center for Health Outcomes and Policy Research at the University of Pennsylvania School, USA, Fellow of the European Academy of Nursing Science, the American Academy of Nursing, the Belgian Royal Academy of Medicine, the Royal Society of Medicine, UK and the Academia Europaea.
He is the European coordinator of the EU RN4CAST-network, Nurse Forecasting in Europe and the EU-funded Magnet4Europe study.
15:00 – 16h30 – Round table
To reflect on:
nurse education and health care education at all levels of the European Qualification Framework
the link between competences of the general care nurse and the level of education
the competences of the care assistant
the place and areas of expertise for the advanced practice nurse
the revision of the European directive on the recognition of professional qualifications
Participants at the round table:
Nico DECOCK is currently the pedagogical director of the school of nurse anaesthetists at the University Hospital of Lille. After initial training as a general care nurse in Belgium, he continued his professional career in France. The European spirit never left him. He systematically strengthened his skills through professional practice in surgery and intensive care, but also in the operating theatre as a nurse anaesthetist. As a healthcare manager, he obtained two masters degrees. In his current position, he has added further expertise through a university degree in pedagogy and simulation. He is strongly involved in national and international associations representing the training and practice of the nursing profession and in particular of nurse anaesthetists, and participates in this table as chairman of the ESNO education committee.
ENSA : to be

confirmed

European Commission : to be confirmed
Ann Van Hecke: Prof. Ann Van Hecke is a professor at Ghent University (Department of Public Health and Primary Care). She currently teaches in Master of Science in Nursing and conducts research into advanced practice roles in nursing, nationally and internationally. Who are these professionals, what do they do, what competencies do they need? What challenges are there when these functions are implemented in today's healthcare system? In recent years, Ann Van Hecke has been intensively involved in the strategic thinking around these functions in Belgium and is co-author of the future of nursing report in Belgium. .
Lon Holtzer: holds a BA in Nursing and a MSc in Healthcare Management & Policy. In her career, Lon has held various positions at the University Hospitals Leuven as nurse, nurse manager, middle management, staff member, and finally Chief Nursing Officer between 1982 and 2010. Since December 2010 she has been appointed as Flemish Healthcare Ambassador by the Flemish Minister of Public Health and Welfare, with the mission to prepare the healthcare labor market for the immense care demand that is coming our way. She is board member in several organizations including two hospitals and two residential elderly care networks. Lon published two books:  'De 7 privileges van de zorg' and 'Stageboek verpleegkunde: inspiratie voor studenten, werkveld en onderwijs'
Maly Goedert, Director LTPS. Born in Luxembourg on 21 August 1965, Maly Goedert completed her primary and secondary education in Luxembourg and obtained a bachelor's degree in Natural Sciences in June 1984. She then attended the current ISEI (formerly ISN) in Brussels and obtained her diploma as a graduate nurse in 1987. While working in an oncology and plastic surgery unit of the Cliniques Universitaires St Luc in Brussels, she pursued a master's degree in "Public Health", option "Health Education" under the direction of Dr Jacques Bury at the Université Catholique de Louvain. This training was interrupted by a one-year stay in Montpellier where she obtained a university degree in "Education Sciences" at the University of Paul Valérie. Back in Luxembourg, she first worked at the Fondation contre le cancer, and then became a nurse teacher at the Lycée Technique pour Professions de Santé (LTPS) in Luxembourg. Since 2015, she has been the director of the LTPS, which is the only school offering training for health professionals in Luxembourg.
Moderators
Maria Cassar : FINE Vice-president, Head Department of Nursing, Coordinator, Master's program in Nursing, Faculty of Health Sciences, University of Malta
Cécile Dury : FINE Présidente – Directrice du domaine de la santé, Haute-Ecole de Namur-Liège-Luxembourg, Belgique
16:30 – 17:00 – Conclusions
Mendes Gaspar Maria Filomena: FINE Vice-president, Coordinator Professor ESEL, Nursing Administration Department, Portugal
Cécile Dury : FINE Présidente – Directrice du domaine de la santé, Haute-Ecole de Namur-Liège-Luxembourg, Belgique