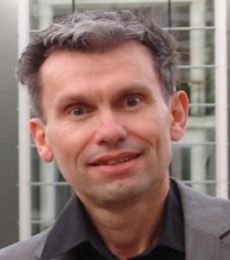 CHRISTOPHE DEBOUT
VICE-PRESIDENT

Christophe Debout is a nurse anesthetist. He successively held positions in clinical practice, management and education in France and abroad. From 2009 to 2014, he was professor in the Department of Nursing and Allied Health Sciences (DSIP) in the Ecole des Hautes Etudes en Santé Publique (EHESP) and was head of this department from 2012 to 2014. He is currently nurse anesthetist master's programme director and head of the school of paramedics in the Institut de Formation Interhospitalier Théodore Simon. He is also a nurse scientist in Health Chair of Sciences-Po Paris / IDS UMR Inserm 1145.
His research interests include advanced nursing practice, leadership and effective strategies to teach research and evidence-based practice to nursing students. He is also Director of the collection "Advanced nursing practice" (Springer) and associate editor of the Revue Francophone Internationale de Recherche infirmière (Elsevier).
He was President of the French National Nurse Association (ANFIIDE) from 2002 to 2009. He is vice president of Fine Europe and is a member of the European Academy of Nursing Science (EANS).